Posted on: May 28, 2018
Four healthcare professionals, representing four different healthcare organizations, shared the many ways they use Hixny to improve their efficiency and patient care at a panel discussion held during Hixny's annual board retreat.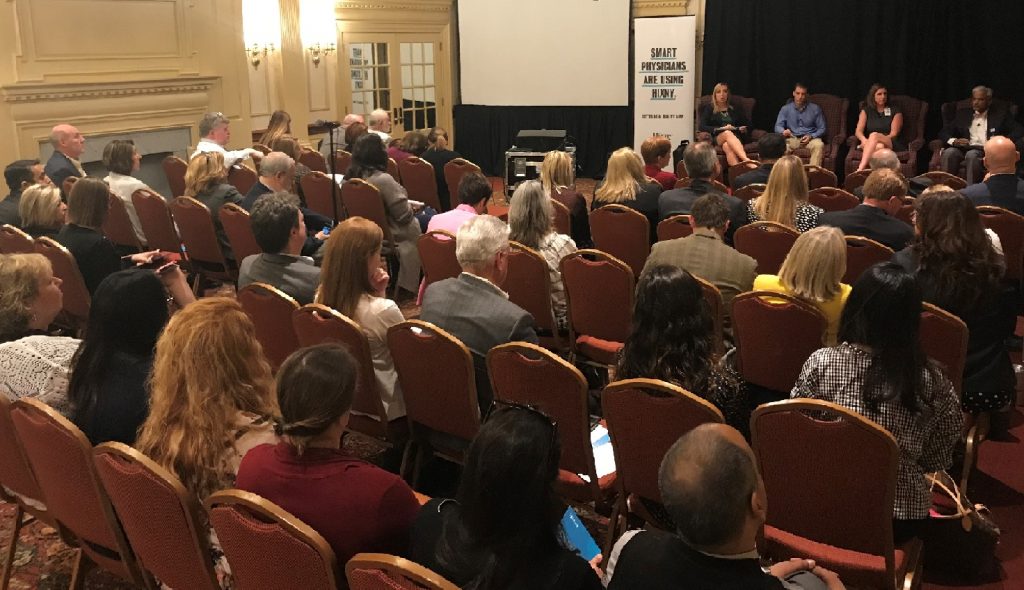 The panelists—Julie Demaree, Physicians' Assistant at Saratoga Hospital Medical Group (SHMG); Dr. Kallanna Manjunath of Better Health for Northeast New York (BHNNY); Dr. Matthew Miles, Regional Medical Director at Landmark Health and Janelle Shults, LMSW, Director of Capital Region Health Connections (CRHC)—spoke to an audience of more than 75 people at The Desmond Hotel in Colonie. The discussion was moderated by John Bunnell, Manager of Account Services at Hixny.
The panelists sang Hixny's praises while also suggesting potential areas for improvement. Overall, they agreed with Dr. Miles' conclusion that, when compared to other regions of the state and country, "We are spoiled having Hixny. If it is not the most advanced health information exchange, it's right up there with the best in the country."
Dr. Miles' organization contracts with payers to provide in-home care for Medicare Advantage patients with six or more chronic conditions. He said one of the biggest challenges Landmark faces is getting to know its patients and Hixny is a big help.
"Hixny is our definite, number one go-to source for patient information," he told the audience. "Once we get a consent and access Hixny, it really opens up the world of what is going on with that patient. We use Hixny extensively, daily. I'm not sure what we would be doing without it at this point."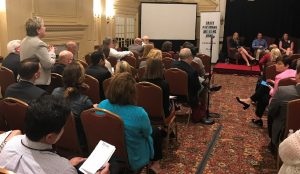 Dr. Miles said "two [other] areas where Hixny has been a huge help to us are identifying gaps in Healthcare Effectiveness Data and Information Set (HEDIS) measures and providing the coding Landmark needs in doing risk adjustment for its patients."
Like Landmark, BHNNY—a Performing Provider System (PPS) formed under the state's Delivery System Reform Incentive Payment (DSRIP) program—needs data to understand its patients and their needs.
Like Landmark, BHNNY relies on Hixny to help identify patients and which providers the patient is seeking care from.  "Attribution to providers is critical if you want to influence performance at the practice level. We also need to have an accurate method to stratify patients, to put together a profile of the patient and determine what services we can provide to influence their outcomes and [bring down costs] for this population," said Dr. Manjunath.
He said BHNNY primarily uses Hixny for a comprehensive community-based care management program it is doing in coordination with CDPHP.
CRHC, where Shults is Director, is a health home affiliated with St. Peter's Health Partners. It brings together several organizations to care for the "sickest of the sick" Medicaid patients. Each patient is assigned a care coordinator, who collaborates with health and community service providers on a plan of care.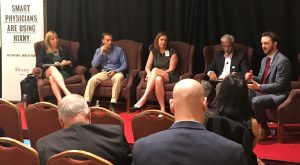 Shults said she often heard care coordinators complain that, "We don't know when the patient is in the hospital." Hixny's real-time alerts provided the solution. Now, the care coordinators are notified when a patient is admitted to, or discharged from, the hospital or emergency department (ED). CRHC providers also pull continuity of care documents (CCDs) from the HIE and use Hixny to search for more specific patient data. She said Hixny supports the individual's care plan—in part by making it available to the medical community—and helps the various members of the care team stay on the same page.
But what has proved a "game changer" for the health home was being able to use Hixny to determine if patients meet the diagnostic eligibility criteria for membership.
"The old school way was to fax out record requests and wait for them to be returned, which sometimes took a while," Shults said. "Now our folks are able to go right into Hixny and pull the records and establish diagnostic eligibility."
Julie Demaree, with Saratoga Hospital Medical Group (SHMG), has been using Hixny for over a decade and has been a champion of encouraging her own organization, and others, to contribute information. The multi-specialty group practice pioneered the sending of EKGs and is now experimenting with healthcare proxies and advanced directives.
Demaree said Hixny has been valuable to SHMG in many ways, including easing the transition of new physicians from paper records to the practice's Medent EMR. She shared the story of one physician whose former practice balked at sending patient records. But those records were available through Hixny, "which made the transition much smoother for the patients and the provider."
She said the SHMG often finds it more efficient to use Hixny to pull its own records than to search its files. SHMG utilizes customized alerts so that the organization receives a "discharge CCD" that tells the providers everything they need to know to make informed follow-up calls to patients.
Panel participants expressed their desire for additional types of data, including claims data—which Bunnell assured them the organization is working on—and "logistical data" such as the date and location of the patient's next appointment. They discussed how social determinants play a large role in healthcare and that addressing such issues as transportation to an appointment can make a big difference.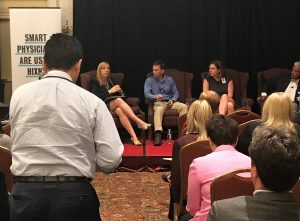 Also on the wish list was customizable views for care coordinators—who are not physicians and may not understand the information in front of them—and busy ED doctors.
"An ED view—where you could see the most recent primary care report, the medications they are taking, their medical history—that would change the game completely," Dr. Miles said.
At the end of the discussion, Dr. John Bennett, CEO of CDPHP and former Chairman of the Board of Hixny, asked the panel for their thoughts on why some providers still do not use Hixny. Demaree responded that too many providers may not be aware of everything Hixny has to offer. She noted that when she first started using Hixny, several years ago, it had much less data than it does today.
"They knew the baby Hixny, they have to see that Hixny is all grown up now, with far more to offer," she said.