What Is Hixny?
We are the nonprofit HIN that serves every provider, resident and visitor who accesses healthcare between Canada and New York City, and from Binghamton into Vermont.
Hixny is eastern New York and beyond.
In 1999, healthcare collaborators and competitors came together to improve care in the greater Capital Region following the introduction of the federal Health Insurance Portability and Accountability Act (HIPAA).
Through mergers, expansions and restructurings, Hixny has become one of the nation's most successful and ground-breaking health information networks (HINs). Ours is an ongoing story of collaboration, evolution and innovation to drive better care and lower costs with one-point access to every person's healthcare record.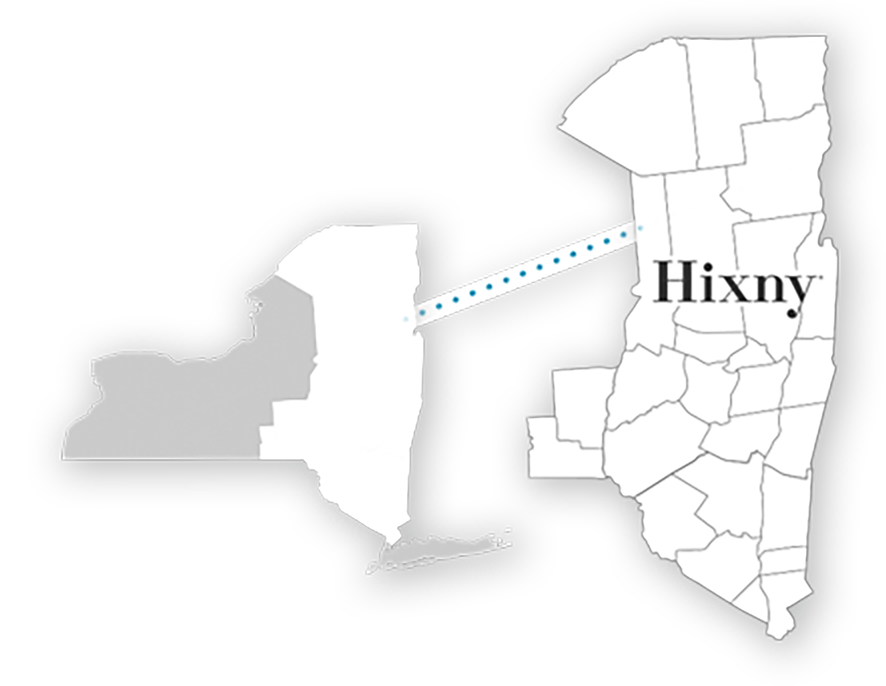 Connecting Records Statewide
We securely support the flow of electronic health information through the Statewide Health Information Network for New York (SHIN-NY, pronounced "SHY-nee"), which is overseen by the New York State Department of Health through the New York eHealth Collaborative (NYeC). We comply with all federal and state laws and regulations regarding technology and security. Our technology stack is designed to support additional data flow through regional or national networks as they come online in the future. Learn more at What Is the SHIN-NY?
Hixny is healthcare data that makes sense.
Hixny's analytics and insights help identify trends, improve diagnostic accuracy and ensure better care for everyone in our region, at every level. We stand at the forefront of today's evolution toward efficient, high-quality, value-based, patient-centered care.
To that end, Hixny's clinical data has been validated through NCQA's Data Aggregator Validation program, ensuring standards and protocols are met and Hixny's clinical data may be used by health plans as standard supplemental data for HEDIS® and for other quality programs – saving time for payers and providers. You may view the data sources validated for HEDIS® MY 2021 here.
If you are a provider who would like to have your data validated for HEDIS® MY 2022 reporting, Hixny can work with your staff to improve data quality by providing mock primary source verification, assess workflow and support quality improvement efforts.  Please contact us to speak to our consultant about your specific situation.
Hixny's clinical data undergoes a rigorous validation process from NCQA to help ensure data accuracy and improve usability of that data and the current validation status only applies to HEDIS® MY 2021 reporting.
Hixny's mission is to help deliver critical health information to improve quality of care and reduce costs for providers, payers, communities and most importantly, patients. We do this by developing and integrating technology systems to efficiently connect all partners in care across New York State.
We Have Answers
Request More Information