Posted on: February 6, 2018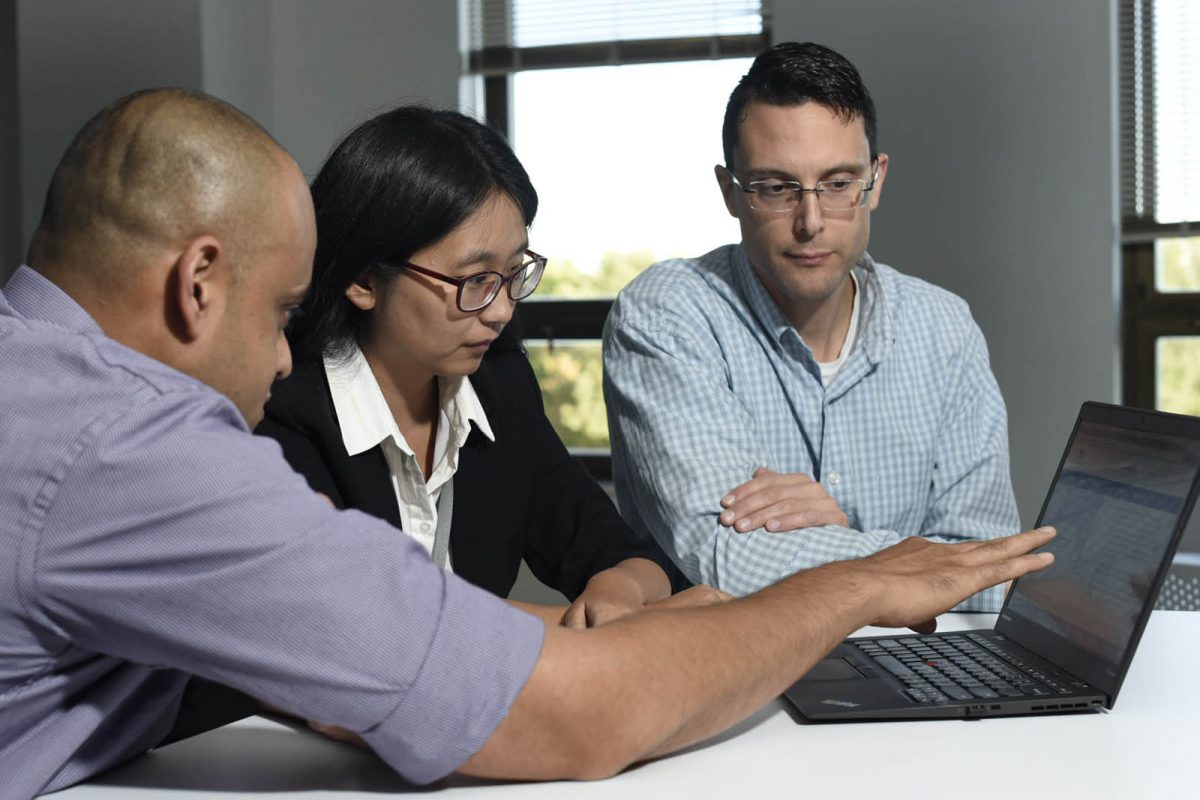 Prahalad Rangan, Lili Guo and Seth Cagle work to eliminate duplicate data.
---
The most recent improvement to the Hixny health information exchange (HIE) not only streamlines the user experience, but saves time, money and, potentially, lives.
Data quality has been the priority for Hixny in 2017, which is why we created a dedicated Data Quality team from XchangeWorx, led by Software Engineer Seth Cagle. XchangeWorx manages and operates Hixny's technology. One of the team's first missions was to address the duplication of data that had become increasingly widespread as the HIE grew and added more connections.
In today's fast-paced healthcare environment, providers need immediate access to the accurate patient data that informs their diagnoses and treatment decisions. Hixny's mission is to provide that data. But redundant information—such as several different reports of the same allergy to morphine or multiple entries diagnosing hypertension, whether from the same or different organizations—can clutter the system, making it difficult and time-consuming to navigate. In turn, that discouraged some providers from going directly to Hixny for patient data.
"It became very clear that someone had to tackle the job of cleaning up all of this data," Cagle said.
Along with Lili Guo, another Software Engineer at XchangeWorx and a member of the Data Quality team, Cagle got to work on developing a better way to organize the presentation of data.
A Clear New View
Hixny users now log in to see an orderly, streamlined presentation that lists each allergy, diagnosis, problem, procedure, lab result and medication only once, based on the most recent time stamp. Visual appeal is just the beginning, though.
"There's a time savings, there's a dollar savings, and there's a patient outcome benefit because the provider is going to be more willing to use the portal or pull records from their electronic health record," Cagle said.
Channeling the firehose of patient information into a faucet was not easy. It took Cagle and Guo several months of hard work and dedication, beginning in early March.
First, the team looked at the areas with the most duplication of data, evaluating what was the same and different about the entries. They determined that the existing system logic wasn't weeding out duplicates as it should because of variations among Hixny's many connections. The team reacted by adjusting the logic so that Hixny could control the matching criteria more effectively. They established both mandatory and optional criteria and tested their algorithms using fictional patients. In most cases, the new logic successfully deduplicated data from different sources so that only the entry with the most recent time stamp appeared at first glance.
By the end of June, the team had de-duplicated allergies, diagnoses, problems and procedures across all institutions. Lab results and medications became the focus throughout the summer and fall.
---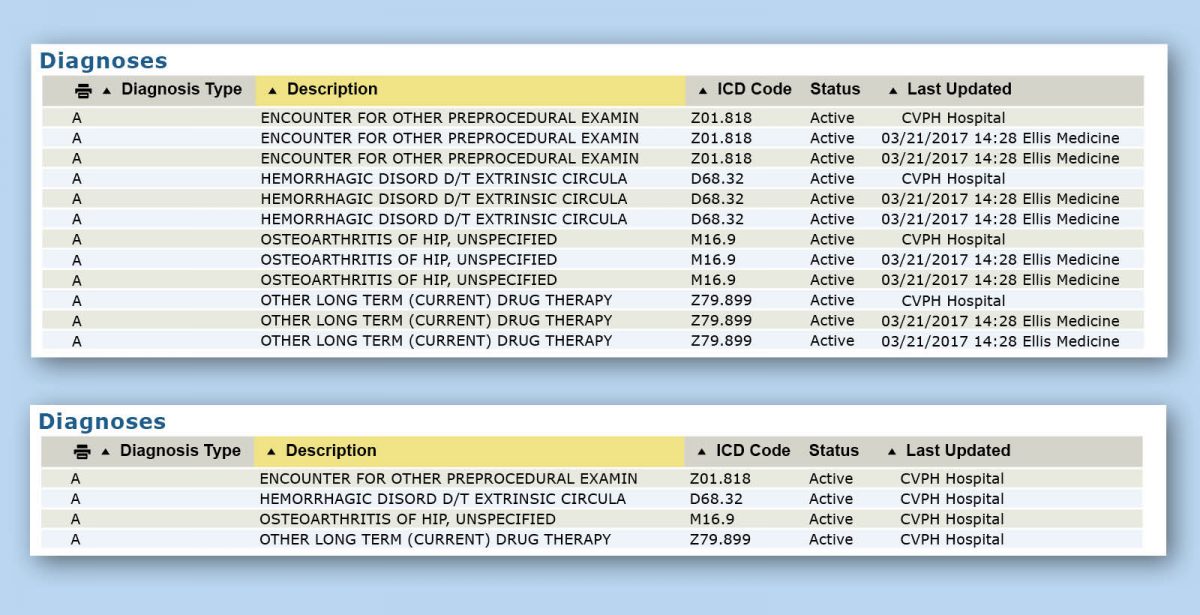 Before (top) and after (bottom) duplication elimination.
---
Adjusting for the Long Term
"We went down this road because we've heard many times from providers that duplication was an issue and something they wanted us to solve," said Bryan Cudmore, Hixny Vice President Account Management. "And with data quality being our priority this year, this was a project we needed to do."
Hixny officials and board members understood that data quality and accessibility were more important to participants—who access the HIE when they're focused on patient care—than which institution was credited with each piece of data. In many ways, the duplication was a product of Hixny's success. As the system grew and reached a critical mass of connections, multiple entities sent the same data, often in a loop.
As Cudmore explained, "We get a lab result from a hospital and that lab result is shared with and consumed by three different providers. Then those three providers regurgitate that lab result to us through their connection to Hixny. So, now, we have four copies of it. Then other systems receive it and send it back. It just keeps expanding."
The resulting process of sifting through pages of duplicate entries at the point of care was problematic both in busy medical offices treating many patients and in fast-paced emergency departments (EDs), where every second counts.
"Hixny data is extremely important, but it's only valuable if it's readable," Cudmore said. "There can't be any wasted time. Providers have to get their fingers on the data quickly."
---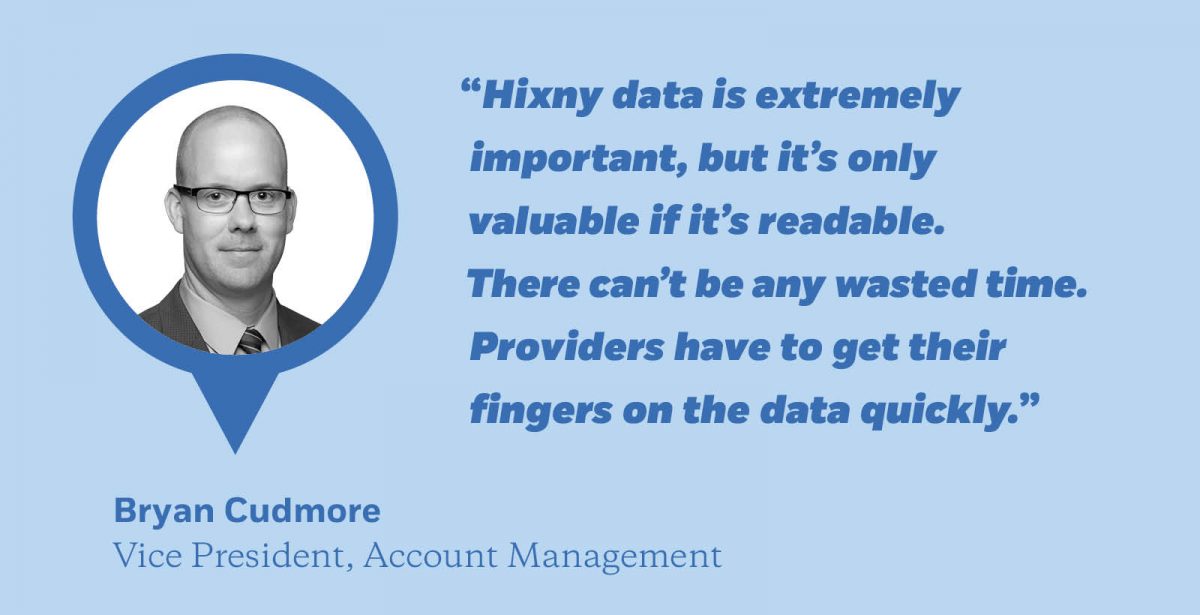 ---
What Hixny Learned
Reducing the amount of data a clinician must search improves workflow efficiency and patient outcomes—and it lowers costs. A recent Journal of the American Medical Informatics Association study shows that reducing each patient's record retrieval time by one hour saves an ED nearly $1,200 per patient, per visit.
With the new logic in place and the statistics to support the use of an HIE in hand, Cudmore and his team will work to identify providers who had been discouraged by their experiences with the prior level of duplication and will encourage them to give Hixny another try.
"Everyone wants to do everything they can to make the data more usable," Cudmore said. "They understand how imperative quality is, not only to our participating providers but to our other services. I think the community now has a trust level in us to allow us to do this."
Cagle agreed, adding that the time and investment was well worth it.
"It all comes down to encouraging deeper, more serious use of the HIE," he said. "We want it to be utilized. We want it to be seen. We want it to be beneficial for all."