Posted on: April 1, 2021
– HITRUST CSF Certification validates Hixny is committed to meeting key regulations and protecting sensitive information. –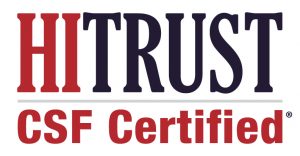 Albany, NY, March 30, 2021 – Hixny, a leading health information exchange (HIE), announced today that InterSystems HealthShare and the Hixny Health Information Service Provider (HISP) has earned Certified status for information security by HITRUST.
HITRUST CSF Certified status demonstrates that the organization's HISP has met key regulations, industry-defined requirements and is appropriately managing risk. This achievement places Hixny in an elite group of organizations worldwide that have earned this certification. By including federal and state regulations, standards and frameworks—and incorporating a risk-based approach—the HIITRUST CSF helps organizations address these challenges through a comprehensive and flexible framework of prescriptive and scalable security controls.
"In today's world of cyberattacks and ransomware, these measures are crucial and bring a whole new level of preparedness to protect the patients and providers relying on Hixny," said Mark McKinney, CEO. "Having accomplished this significant milestone re-emphasizes our commitment to security and delivers assurances to the providers already using Hixny and those considering connecting to us."
"The HITRUST CSF Assurance Program is the most rigorous available, consisting of a multitude of quality assurance checks, both automated and manual," said Bimal Sheth, Vice President of Assurance Services, HITRUST. "The fact that Hixny has achieved HITRUST CSF Certification attests to the high quality of their information risk management and compliance program."
About Hixny
Hixny is the nonprofit electronic health information network (HIN) serving Eastern New York and parts of Vermont. Its secure technology allows healthcare consumers and providers to access health records in real time, ensuring providers have the details they need to provide high-quality care and empowering patients to become more active participants in their own care. Hixny facilitates collaboration, helping establish the foundation of effective population- and community-level health initiatives. Hixny is a nationally recognized leader in HIE technology innovation.