Posted on: June 14, 2018
The use of health information exchanges (HIEs) has made it easier for clinicians to view a patient's medical records. It has also made it simpler to use that information to provide more efficient and higher-quality medical care.
As the information sharing through HIEs has increased, so did myths about how an HIE works and what it provides. Fortunately, many of those concerns are based on misconceptions.
This article will help clarify some of the misinformation that is out there and provide you with a more accurate picture of how health information exchanges really work.
Myth No. 1: Too Much Downtime
You may have heard …
"Health information exchanges have a lot of downtime and are frequently not available to healthcare providers when they are needed."
The reality is …
Downtime is very uncommon with current HIEs. Hixny, for example, has been available for providers to use more than 98 percent of the time on average. In 2018, Hixny recorded 100 percent availability for the first four months of the year.
Scheduled maintenance does occur every few months and is conducted overnight and on the weekends to minimize inconvenience.
Myth No. 2: The Devil's in the Details
You may have heard …
"Patient records in an HIE do not contain enough detailed information to be useful."
The reality is …
The number of providers contributing information via Hixny continues to grow. Currently, Hixny has connected all hospitals and 76% of outpatient providers.
The number of patients whose medical history is included in the Hixny HIE now includes comprehensive medical information for about 3.3 million unique patients. This data has been collected over many years of operation.
Medical information for each of those patients will continue to grow as more providers become part of the Hixny system. Since January 2017, Hixny has collected an average of more than 507,000 lab results and 10,800 radiology reports every month.
When your patients provide their consent you will be able to find:
Discharge summaries
Lab results
ED reports
Progress and consult notes
Medication lists
Problem list/diagnoses
Image reports
Procedures
Demographics
Immunizations
Allergies
EKG tracings
Vital signs
Family and social history
In addition, Hixny has also added EKG and gastrointestinal images to its available data, and is continuing to add more reports and data every year.
 Myth No. 3: Information Overload
You may have heard …
"Patient records contain too much information for clinicians to find what they need."
The reality is …
Patient medical histories available through HIEs can contain a tremendous amount of data. Health professionals who feel they're drowning in that amount of data are most likely looking to resolve one of two issues:
Reduce the volume of information they're served, or
Find a better, more user-friendly view of the information they're served
While HIEs are designed to have all information available to a clinician—they do not routinely filter the information included in provider portals.
There are two ways to resolve these challenges:
Filter the data: Hixny provides filtering capabilities as part of its electronic health records (EHR) integrated services. That filtering capability means that Hixny can be configured to block any data that is already included in your EHR. Hixny can also be configured to show you only information for treatment that occurred after a specific date or certain time period. In addition, system alerts can also be configured to include only patients who have visited your practice within a certain period.
Sort the data: If filtering the data does not meet a clinician's needs—there's the option to switch the view of data, by sorting it with page tabs. This allows for a more user-friendly, quicker way to find what a clinician is in search of. One caveat to this option is using Hixny's provider portal to separate the data, versus whatever tools a clinician was previously working with. This means modifying a workflow. Many providers have found success adopting a new workflow to get access to what is needed in the view that suits them.
For more information on how to customize how you receive and view data with Hixny, contact our Account Services team at 518.640.0021.
Myth No. 4: Nothing New
You may have heard …
"We already have all the patient's medical information we need in our electronic health records (EHR) system."
The reality is …
Hixny and other health information exchanges provide information not available your EHR system.
It's true that most hospitals and physician practices already have an EHR system up and running. While a system's EHR includes comprehensive data on all treatment patients have received at its facilities, it does not include information from practices and hospitals outside its network.
Hixny conducted a study at a local hospital to prove this. In a review of 134 medical cases at the hospital, a health information exchange made additional information available in more than 84 percent of the cases. In nearly 71 percent of cases, clinicians were able to see information that was not available in the hospital's EHR. Most importantly, clinicians reported that in nearly 22 percent of cases, information that was not in the hospital's EHR but was available through Hixny was clinically relevant. In nearly 13 percent of cases, the additional information changed the treatment provided to patients.
But what about outside of the 19 counties Hixny covers? Statistics from the Statewide Health Information Network of New York (SHIN-NY)—which connect the state's eight regions together into one, seamless network of networks—show how common it is for patients to be treated in more than one region.
Thanks to the SHIN-NY—there is statewide retrieval—so healthcare data is available throughout the entire state. The result? Health records aren't tied to a single physical location anymore.
If a patient used to live in Syracuse, but now resides in Albany, an emergency department physician treating them can access their records from treatment at a Syracuse hospital. In fact, twelve percent of patients from the Central NY area, also have a record in Hixny's territory. This is why having access to medical history outside of a physicians' practice, hospital or even geographic region, can provide insight to treatment or diagnoses.
The graphic below shows the percentage of Hixny patients who also have a record outside its region.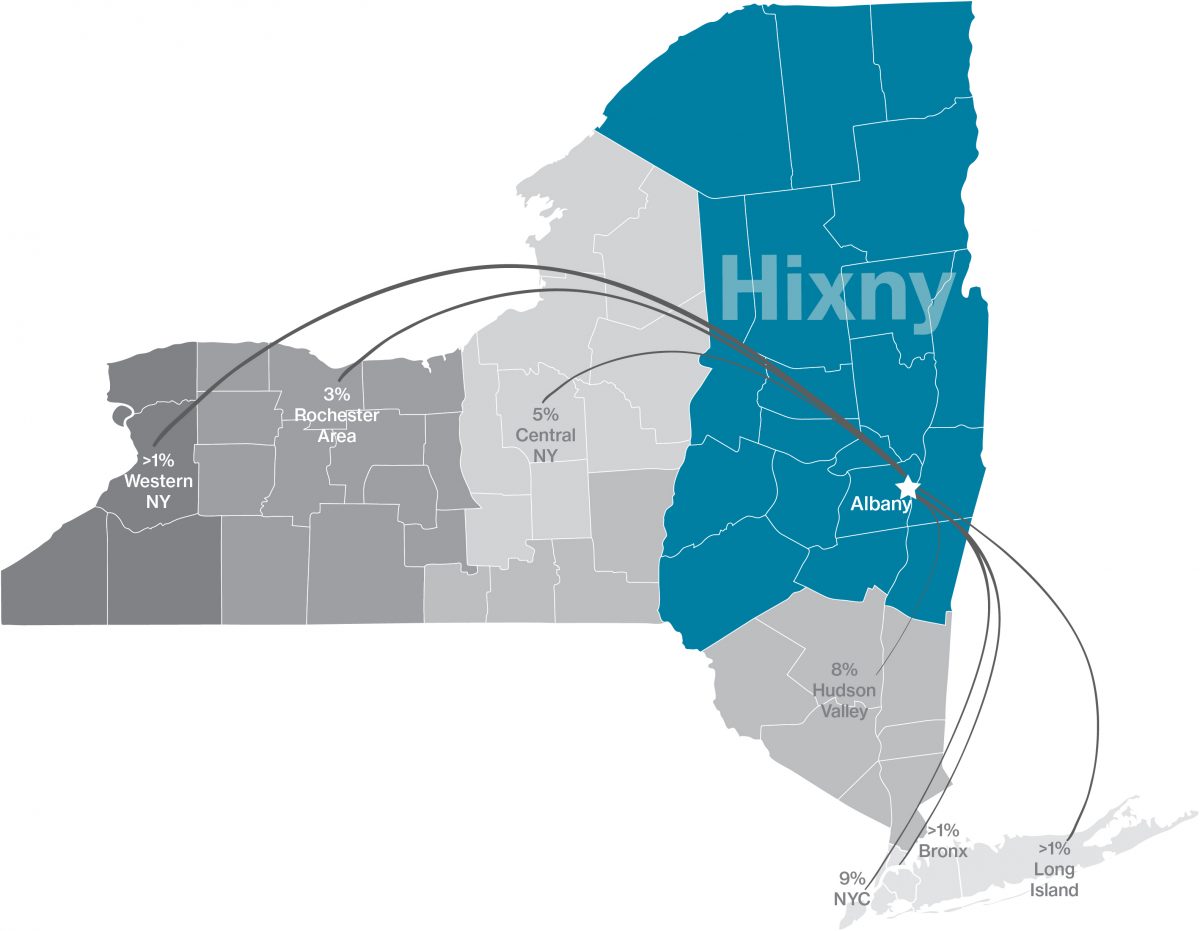 Image, data as of June 2018.
Myth No. 5: Disappearing Data
You may have heard …
"Patient data in a health information exchange can go missing from a patient's medical record and then appear again."
The reality is …
Every 60 seconds, Hixny's records are updated with new information—all in real time. That means that when you can't locate a specific piece of patient data, it's often because additional data has been inserted into a record, or data has been updated. Actual occurrences of missing data are rare and are increasingly less common as HIE technology improves.
________________________________________________________
Don't let myths and misconceptions keep you from providing the best patient care possible. Health information exchanges are a valuable tool for making care decisions based on complete, accurate, and up-to-date patient information.